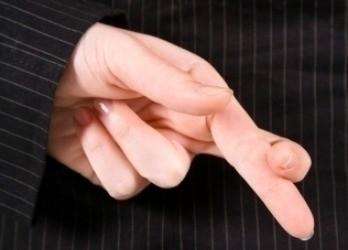 Stretching the truth on your CV is at an all-time high, with an estimated 50% of job candidates admitting to fibbing on their CV. While it may seem harmless, companies are clamping down on those who tweak their CV. It can actually be seen as fraud by false representation, which carries a maximum of ten years in prison under the Fraud Act of 2006.
A massive 95% of companies have admitted they would pass over a candidate who lied about their education and 80% wouldn't even consider a candidate who fibbed in any way to them. So, what are people lying about?
Lying about qualifications
This is fairly common, with people bumping up what they got at school or how well they did in university; getting a great job is, for some, an incentive for turning that 2.2 into a 2.1.
Lying about your previous salary
Having a bit more money to make things easier is a noble reason to lie about your previous salary. Thinking that you deserve a better salary than you used to receive is an okay reason to lie about your previous salary. Making up a number out of greed is a bad reason to lie about your previous salary. All three are inadvisable.
Inflating titles
'Paper technology engineer' sounds a lot more impressive that 'photocopier guy'. 'Employee hydration specialist' sounds better than 'the coffee girl'. But it doesn't mean that exaggerating what you did is going to do you any good in the job hunt.
Lying about technical skills
Sure, if you've got a computer you can probably claim that you have wicked skills with Microsoft Database or know the finer workings of Microsoft Excel because you occasionally use it to make knitting patterns (I know I do). Or maybe you've got a friend who knows how to use Photoshop, and you watched them fiddle around with it. So you claim that you can work with these programs, and then on the first day of the job, you get sat down to work with them. Oops.
Inventing periods of self-employment to cover up unemployment
As we all know, it's tough to stay continuously employed in the current economic climate. There's no shame in that, but many seem to think that employers will refuse to consider a candidate who's had periods of unemployment. They're even less likely to consider a candidate who's lied to them, so be honest about your employment history.
False reference
This is one of the two most major lies to put on your CV. And as they go, this is a pretty big no-no. The people who want to hire you are going to note down all your false references. They are then going to call them. They are going to discover pretty quickly that you are a big fibbing liar and are going to dump your CV in the bin.
False reasons for leaving past employment
This is the biggest no-no of them all. Until this point, you've been lying to boost your credibility or just get a better job. This one however just reeks of 'I've got a dodgy past involving my boss, a tub of butter, and his beloved pedigree cat'. Well, if you were fired from a job, you're just going to have to put it down and be prepared for some grilling about it. If you left a job for reasons you don't want to disclose, I'm afraid you're going to have to talk about them.