Break out areas are a vital part of any office space and it's more important than ever to encourage your employees to take a break from their desk throughout the day in order to enhance concentration and improve productivity. With that said, a grotty sofa next to a whirring fridge is certainly not inspiring but an impressive rooftop with views of London is the perfect place to catch up with a colleague, spend your lunch break or host drinks with a client.

£800 Cost/Person/Month
Situated in the heart of Soho, this office space is perfect for companies looking for a central location with quick access to areas like Victoria and Mayfair. This stunning space offers a wealth of amenities from a games room to a roof terrace with comfy furnishings.
£250 to £325 Cost/Person/Month
This Grade I waterside complex is close to Tower Bridge, The City, Shoreditch and Canary Wharf and is home to a diverse community of businesses and entrepreneurs. The offices and meeting rooms are visually striking and the impressive rooftop is ideal for events.
£299 to £700 Cost/Person/Month
Get some fresh air and take your work outside with skyline views from this business centre's roof terrace. Located in a fast-growing creative neighbourhood and just a few moments from the northern line, tenants can spend less time commuting and more time working on their business.
£500 Cost/Person/Month
This tasteful office building is in the heart of Shoreditch, one of London's most exciting locations and a favoured destination for tech, creative and media companies. The office space boasts fun and comfortable work spaces as well as a rooftop garden to take in some Vitamin D while you work.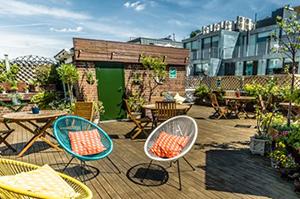 Browse the Flexioffices website today.