According to a recent survey by the BBC, over half of workers in the UK spend their lunch breaks at their desks, which is a little depressing to say the least. Instead, try spending your lunch hour dreaming of your next holiday and let your lunch breaks lead you around the world, before landing back home in time for that Sunday roast.
Japan: Bento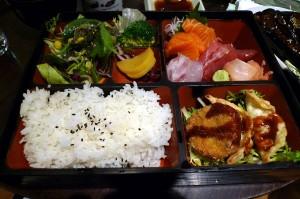 Bento is the word used for 'meal in a box' and like the English packed lunch, almost anything goes. Bento that you'll see in restaurants can be elaborate, but basic lunches can be made at home and a traditional bento contains rice, fish or meat and cooked or pickled vegetables.
India: Tiffin

 Usually consisting of dal, rice, curry, vegetables and chapattis, tiffin can be a great alternative to those dreary sandwiches. In Mumbai there is an incredible tiffin delivery system, which consists of around 4,000 dabbawallas who deliver over 160,000 lunches each day. The dabbawallas collect the home cooked lunches from wives around the city area and deliver them to the hungry workers and school children.
The tins, which carry layers of different parts of the meal, are colour coded so that they get to the right place and sorted into their destinations in suburban places like train stations. Then the dabbawallas jump on trains and bikes in order to get them there as quickly as possible. The tiffin tins are even returned to their owners, later in the day. However, unlike workers in Mumbai, you'll need to plan this lunch the night before.
England: Ploughman's Lunch
The Sunday roast might be the meal that is mostly associated with us Brits, but it's pretty difficult to pack it into your lunch box or find a local pub that serves Yorkshire puddings on a weekday. The Ploughman's lunch is a brilliant alternative and is pretty speedy when it comes to preparation time. A crusty bread roll, cheese, an apple and a few slices of ham are the basic ingredients, but you can be as inventive as you like: add a few pickled onions, mustard, or some salad. Just grab the ingredients from the fridge and remember to take a knife in your lunch box!
Spain: Tapas
Although most of us aren't lucky enough to be able to take longer lunch breaks like the Spanish (I know I'd like to squeeze a nap in before heading back to my desk most days) it doesn't mean that we can't steal some menu ideas. Paella tastes brilliant cold and all of the flavours have had time to develop. Or choose lots of smaller tapas dishes when packing your lunch box: Olives, chorizo or sliced meats, bread with olive oil, beans and anchovies are all firm favourites throughout Spain.
South Korea: Kimbap
Virtually every meal is served with kimchi in South Korea. This is a fermented cabbage with garlic and pepper, but it's often hard to find good kimchi on this side of the world. If you want a South Korean influence added to your lunch, try your hand at making kimbap. Wrap vegetables and boiled egg in seaweed wraps and pop them in your lunch box. The result looks a lot like sushi but the lack of raw fish means that you can take it to work, even if you don't have a fridge.
Czech Republic: Stew and dumplings
Food in the Czech Republic has been influenced over the years by its neighbouring countries, but the most distinguishable dish is accompanied by distinctly Czech dumplings. Slightly fluffier, but still very dense and spiced, the dumplings accompany meat stew and is one of the dishes that helps hard workers get through the working week.
Italy: Pasta
The traditional Italian dish can be made with almost anything and eaten hot or cold. Start with a traditional pomodoro sauce with tomatoes and basil, then add whatever you like; olives, tuna, ham, cooked chicken, cheese...the list is endless.
South Africa: Bunny Chow
Bunny Chow is a South African fast food dish and is simple to prepare. It's curry or stew in a hollowed out loaf of bread, meaning no mess, as it's all soaked up by the bread.