Things To Do In London At Christmas
So here we go again, Christmas is only matter of weeks away and that means only one thing. In offices around London, people are seeking Christmas party venues, ideas and inspiration for the 2015 festive season. We know it can be daunting to be given the responsibility to plan the best office Christmas party ever! But don't worry, because we have come up with ideas to help inspire you to plan the ultimate Christmas party in London for 2015.
Day-time Activities & Events
If you're lucky enough to have spare time in the day to enjoy the festivities before the Christmas party, then we have some ideas which will warm your stomach like a glass of mulled wine! There are plenty of things to do in London at Christmas, with events and activities held all throughout November and December, picking the right one can seem daunting. So we've endeavored to showcase the best, so you don't have a humbug of Christmas party in London this year!
Winter Wonderland 2015
An event that needs no introduction! Winter Wonderland is a spectacle to behold - with bustling winter markets, atmospheric beer halls, live music and festive fairground rides, there is something for even the most self-professed office scrooge. Entry to Winter Wonderland is completely free for all ages, and if you would like to experience the other attractions such as The Magical Ice Kingdom, Zippos Christmas Circus, or the Ice bar then you'll have to book. If you're booking for a group over 20, you'll receive a 10% discount, so spread the word around the office!
Website: www.hydeparkwinterwonderland.com
Email Address: winterwonderland2015@pwrevents.com

HintHunt
HintHunt is a great team building activity which your team could do in the daytime before your Christmas party. The game is designed for small groups of 3-5 people, but if you have a larger group you can play with up to 15 people, with 5 people locked away per room. Your team will have up to 60 minutes to escape either "JM's Office" or the Japanese Style mystery rooms. Teamwork is essential and only in unison will your team succeed in solving the puzzle. This is fantastic way to create an exciting, competitive atmosphere before you revel into the late night for your Christmas party.
Website: www.hinthunt.co.uk
Twitter:@hinthunt
Email Address: iwouldliketo@hinthunt.co.uk

Laser Tag
Laser Tag is a great way to blow off some steam after a busy year, and begin the festive season. Allowing up to 20 - 25 people Star Command Laser Tag is a really fun way to spend your afternoon during December. Just beware of the sharpshooter in your offices, there's always one! And it's probably who you least expect… Prices are £10 per person if you pre-book, and you receive a £25 group discount on bookings.
Website: www.ultimaterecreation.co.uk/starcommand/laser-tag-london
Contact Number: 084 5617 0685

Restaurants
Duck and Rice Restaurant
The Duck and Rice is a great Christmas party venue for Chinese food lovers based in London. The restaurant is on Soho's Berwick Street Market, adopting the role of a Chinese "gastropub". The exterior of the building is sporting a unique stained-glass facade. The interior is exquisite, designed by the Turkish design studio Autoban. Acting as a Chinese homage to the British pub, this pleasant bar and restaurant will warm your bellies with a tankard of beer, and a plate of delicious Chinese cuisine.
Website: www.theduckandrice.com
Email Address: reservations@theduckandrice.com
Twitter: @theduckandrice
Contact Number: +44 (0)20 3327 7888

Cahoots
Set in 1946, Cahoots is a cocktail bar imbued with the spirit of Britain. Affordable and unique, Cahoots would be the ideal place for you to spend drinking cocktails long into the night during your Christmas party. Picture escaping the harsh December cold, and descending into 1946 Britain with magnificent furniture surrounding you alongside smiling faces of happy guests. With an extensive list of high-quality cocktails, and chirpy staff you'll have a happy Christmas with Cahoots.
Website: www.cahoots-london.com
Twitter: @CahootsLondon
Contact Number: 02073526200

Steam and Rye
Based in the City, this popular late night restaurant is infused with 1940s Hollywood glamour, along with a dash of the Wild West. Hollywood set designer, Jonathan Lee, has designed an interior which is a tribute to the Golden Age of Hollywood. With a wide range of food choices on the menu, and fantastic service, the Steam and Rye would be a great choice if you're based in the City.
Website: www.steamandrye.com
Email Address: info@steamandrye.com
Twitter: @steamandrye
Contact Number: 020 7444 9960

Late-night Venues
Queen of Hoxton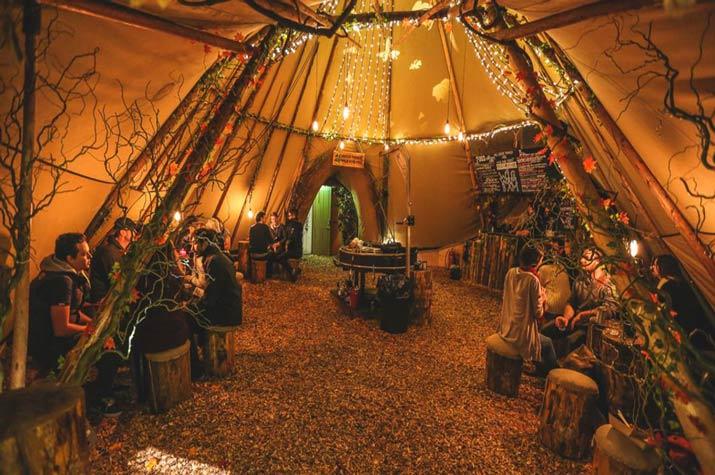 The Queen of Hoxton is a spellbinding venue to consider spending the night for your Christmas party. With its Once Upon a Wigwam pop-up situated on the rooftop, offering guests of East London's most iconic rooftop the opportunity to explore a fantasy land. Boasting a gingerbread house-inspired bar which you can actually eat on occasion, as well as ornate mirrors, spiraling silhouettes of reaching tree branches and exquisite food - all nestled amongst a magical golden glow, and an immersive atmosphere.
Website: www.queenofhoxton.com
Email Address: info@queenofhoxton.com
Twitter: @_QueenOfHoxton_
Contact Number: 020 7422 0958

Adventure Bar Covent Garden
Adventure Bar Covent Garden is the place to go for terrifically tasty cocktails in a down-to-earth atmosphere where everyone is looking to have a good time. The bartenders all possess an arsenal of astounding trickery when it comes to cocktail mixing, which will put a smile on the face of any office scrooge. This is the place to end up watching your manager dancing on the table at 2am, which let's face is why we all go to the Christmas party!
Website: www.adventurebar.co.uk/covent-garden-bar
Twitter: @AdventureBar
Contact Number: 020 7924 6055

Shaka Zulu
Shaka Zulu is based in Stables Market in Camden, and it's an ideal place to spend the night of your Christmas party. A trendy crowd gather to enjoy the South African cuisine, and stylish interior design which won the 'best interior design' accolade in the London Club and Bar Awards 2012. Shaka Zulu flaunts a unique clubbing atmosphere, with 60ft giant statues, talented DJs and exotic African food - this should be a strong contender to be your Christmas party venue in 2015.
Website: www.shaka-zulu.com
Twitter: @ShakaZuluLondon
Contact Number: 0203 376 9911
Remember, when tucking into your third glass of mulled wine, and standing under the mistletoe that those around you are your colleagues and any cheeky smooches will follow you into the New Year!
Now that we've provided you with bagful of Christmas party venues and ideas for London in 2015, where would you most like to have your Christmas party in London?
From all of the team at FlexiOffices, we wish you a very Merry Christmas! And remember, if you're looking to move offices during 2016, FlexiOffices is best place to find everything you will need.